It comes as no surprise that aquamarine is known as the gemstone of the sea. Derived from the Latin words 'aqua' and 'mare', aquamarine signifies the joining of water and sea. Aquamarine is the birthstone for those born in March and is also the gem associated with 19-year wedding anniversaries.
Here's the lowdown on the stunning aquamarine gemstone.
What Is an Aquamarine?
Formed from the mineral species of 'beryl', aquamarines are semi-precious gems of the beryl family that are renowned for being both durable and pure. With a strong clarity and less natural inclusions than other gemstone varieties, aquamarine's composition of beryl, when combined with other minerals, creates a classic baby blue colour – which is the colour most commonly associated with the gemstone. Rarer aquamarine stones can also be found in pink and greenish hues.
The colour of aquamarines can range from sea-foam green, to teal, to blue-green. However, with aquamarines, the darker the hue, the more expensive the stone. Deeper blue gemstones are more expensive, and this is therefore proven with the aquamarine. It's also noted that the best aquamarine stones contain some slightly green hues that are intertwined with a base, deep blue colour.
Aquamarines are most commonly found in Brazil, Africa, Asia and in Colorado's Rocky Mountains – where it is the state of Colorado's gemstone. It usually occurs in granite pegmatites, and it commonly associated with quartz, muscovite and topaz.
A fun fact about aquamarines is that some of the world's most renowned aquamarines currently belong to the reigning Queen of England. At her coronation in 1953, she was gifted an aquamarine necklace with matching earrings by the president of Brazil. After she received it, she had a matching bracelet, tiara and brooch made as she loved the pieces so much.
The History of Aquamarine Stones
There are numerous myths and legends about the aquamarine gemstone. The Romans believed the stone absorbs the feeling of young love, whereas the Greeks knew the aquamarine as a sailor's gem, ensuring a safe and prosperous passage when travelling in rough seas. Conversely, in Medieval times, the aquamarine stone was thought to awaken romance between married couples, and the Egyptians and Hebrews saw the aquamarine as a symbol of everlasting youth.
Jewellery and protective amulets using aquamarine stones have been dated back as far as 500 BC, but the largest gem-quality aquamarine ever recorded was found in Brazil in 1910, weighing over 110 kilograms. Additionally, the largest faceted aquamarine in the world, the Dom Pedro Aquamarine, is currently on display at the Smithsonian's National Museum of Natural History.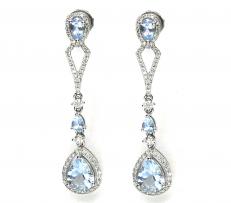 How Did Aquamarines Become the Birthstone for March?
The idea of a calendar year of gemstones is thought to be an ancient one, with scholars tracing it back to the Breastplate of Aaron as described in the Bible's book of Exodus. The Breastplate was a special garment set with twelve gemstones that represented the tribes of Israel at the time. Based on this model, the modern birthstone list was created and has remained unchanged since 1912. It was defined by the National Association of Jewellers from the United States and was designed to similarly align with the zodiac signs and the birth-months of those within each sign.
Many of those who have March birthdays also have the zodiac sign of Pisces, which shares properties with the aquamarine stone in terms of water or the sea.
Other Types of Beryl Stones
As the mineral beryl contains many varieties, the aquamarine stone effectively has five 'brothers and sisters'. Each type is recognised because of its distinctive colour, and include aquamarine, bixbite, goshenite, emerald, heliodor and morganite.
Bixbite is extremely rare and receives a bright red colour from its beryl component. In contrast, emerald is beryl's green and most precious variety, goshenite is colourless beryl, heliodor covers a variety of earth tones of beryl, and morganite is also known as 'pink beryl'.
What Jewellery Pieces Do Aquamarines Go Best With?
Aquamarine stones have a number of favourable attributes for jewellery, namely due to their durability and availability. Rated 7.8 on the Mohs hardness scale, aquamarine is soft enough to accommodate a range of gemstone cutting shapes, styles and techniques. With regards to jewellery, aquamarine stones first rose to popularity in the 1940s when there was a large availability of the gem. Since then, jewellers all over the world have set aquamarine stones in rings, necklaces and earrings.
Aquamarines were regarding the 'ring trend' of 2019, particularly in a halo-setting style. By surrounding the aquamarine gemstone in a ring of white diamonds, the gemstone is highlighted and has the chance to make a real statement. And while the classic diamond engagement ring will remain a timeless and classic option, there has certainly been a rise in more non-traditional rings featuring a variety of gemstones and quirky settings.
As far as setting and metal are concerned, rose gold is a great pairing with aquamarine. It can also be paired effectively with traditional gold and silver and suits a number of settings due to its high clarity and minimal invasion from veins or other shades and hues.
Although aquamarine is a very durable gemstone, you will still need to take care to ensure its maintenance. To care for your aquamarine jewellery, soak it in warm soapy water and buff the metal gently with a soft cloth to dry. Aquamarine jewellery can also withstand light exposure, but it's best to avoid exposing them to extreme heat.
Whether it's an aquamarine necklace, pendant, earring, bracelet or engagement ring, look no further than the expert team at Perth's Allgem Jewellers. Conveniently located in Hay Street Mall in the CBD, Allgem's wide range of gemstone jewellery pieces, including a range of aquamarine pieces, is sure to suit all design preferences. Contact our professional master jewellers or visit our showroom to take a look at our wide range of luxurious gemstone jewellery.