**Please note that we have paused taking on valuations and repairs until mid-January 2024 due to the festive season.**
Trust Your Repairs to Allgem

Finding somewhere you trust to clean and repair your precious gems and jewellery can be a difficult task. Most stores send their repairs to an outside 'trade jeweller' for work to be completed.
That means if you want gold jewellery repairs and you live in Perth, your valuables may be sent to the eastern states and pass through several hands.
At Allgem, all jewellery repairs are carried out in a workshop located beneath the retail store, ensuring your valuables do not leave the premises and are kept secure always.
Allgem Jewellers have more than 45 years' experience in the trade and will repair most types of jewellery, from modern to antique. Most jewellery repairs take between 3 and 21 days, depending upon the complexity of the job and time of year. You will be given a quote and estimated finishing time before any work has begun.
All jewellery repairs carried out at Allgem are fully guaranteed and of the highest quality. Allgem has built a reputation for quality workmanship and receives many referrals from happy customers to their friends or family.
Range of Repair Services
Allgem Jewellers offers a range of services involving jewellery repairs including:
Laser welding - a fusion welding process in which two metal pieces are joined together by the use of laser.
Restoration - the renewing of an article to its original form.
Ring resizing for men's and women's gold or platinum rings
Re-tipping and claw repairs.
Shank replacement on rings.
Chain/Bracelet repairs and soldering.
Stone replacements and setting.
Cleaning precious gems, Australian opals and other jewellery items.
Rhodium plating - some contemporary items, especially those made of white gold, are electro-plated in rhodium to enhance shine and durability. The plating wears over time, but a quick trip to Allgem is all it takes to bring your jewellery back to its shiny best.
Take your gold jewellery and other valuables to Allgem's expert team in Perth for a quote on repairs and get many more years from your precious gems and valuable pieces.
Contact us today for more information or to book an appointment.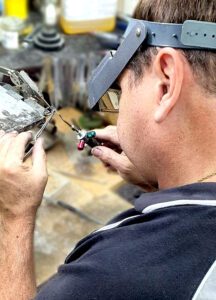 SIGN UP NEWSLETTER
SUBSCRIBE OUR NEWSLETTER TO GET UPDATE